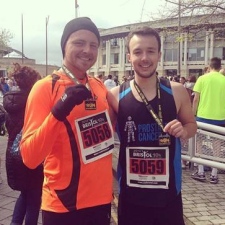 Bob Irwin and Jamie Butt, who both work for Triangle Telecom in Hill Road, have set themselves the task of running at least ten 10km races as well as four half-marathons by the end of the year but will fit in more if they can.
So far, they have completed two half-marathons and four 10km events. The duo intend to take part in the Clevedon 10k on Tuesday next week.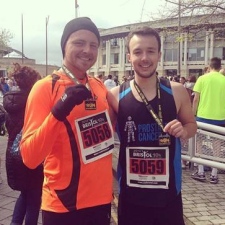 They have also registered to take part in the Bristol Half- Marathon, the Royal Parks Foundation Half-Marathon and the Ashton Court 10k.
In most of the events completed so far, the friends have run together. However, Bob also took on a 10k in Hollywood while on holiday earlier in the year.
Bob, aged 32 of Hill Road, Clevedon, said: "Prostate cancer is a big problem in the UK and across the world with very little known about it compared to breast cancer.
"Jamie and I have decided to run throughout the year to raise money for this charity."
Jamie, aged 22 of Greenslade Gardens, Nailsea, said: "My granddad passed away from prostate cancer and my grampy is also currently suffering from it.
"I want to raise money to help fund research and find a cure."
Bob and Jamie have a target of reaching at least £1,000 but hope to raise even more for the cause. So far they have collected £561.
■ Anyone wishing to sponsor Bob and Jamie can do so online at www.justgiving.com/Robert-Irwin1 or by texting BOBI76 and the amount (£5) to 70070.