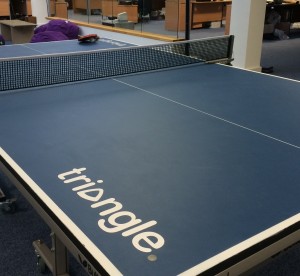 As part of a commitment to promote healthier lifestyles among its employees, Triangle are challenging local businesses to come and test their table tennis skills at their headquarters near Bristol.
Table Tennis is taking the country by storm, with tables popping up everywhere.
Aled from Table Tennis UK is at the centre of the project to get businesses in Bristol getting staff and visitors into the game.
"Table Tennis is accessible to anyone, the benefits to businesses and Schools have been clear to see," he says. "It's great to have Triangle's support, and we've been encouraged by their positive approach to getting staff on their feet and all involved."
The new table has taken pride of place in the previously empty atrium area of the Triangle offices, and has been a real hit with the team.
If you think your skills are up to the challenge, please get in touch.